All the 
updates 
of the OS with the AgnosPCB inspection tool software will be listed here. But, in order to be able to use them, you need an 
AgnosPCB OS system
 already running in your Raspberry (at least version 4.0.3). The latest stable OS version can be found 
here
. If you do not have any, proceed to 
install it 
and then come back to this section to update the system. The 
latest UPDATE
can be downloaded, clicking on this button:
 To UPDATE your Raspberry system
:
1) Extract the AGNOS_UPDATE folder into the root of a USB drive. Do not change the folder's name. It has to be AGNOS_UPDATE
2) Plug in the USB drive into any of the Raspberry's USB port.
A pop-up windows will let you know, after a few seconds, that the update has been carried out.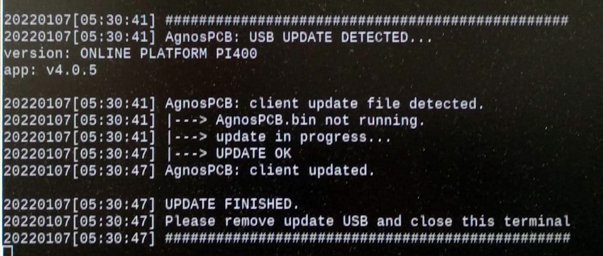 Installing the AgnosPCB OS for first time: Setting up your system SD card
If you have an SD card that doesn't have the Agnospcb OS operating system on it yet, you can easily install Agnospcb OS + inspection tool yourself. To do so, you need a computer that has an SD card port — most laptop and desktop computers have one- and burn the OS image on it.
Using the Raspberry Pi Imager is the easiest way to install our custom Linux OS on your SD card. More info below.
Click on the link for the Raspberry Pi Imager that matches your operating system:
-> get the Raspberry Pi Imager (windows)
-> get the Raspberry Pi Imager (Ubuntu)
Using the Raspberry Pi Imager
Anything that's stored on the SD card will be overwritten during formatting. If your SD card currently has any files on it, e.g. from an older version of Agnospcb OS, you may wish to back up these files first to prevent you from permanently losing them.
When you launch the installer, your operating system may try to block you from running it. For example, on Windows, I receive the following message:
If this pops up, click on More info and then Run anyway.
Follow the instructions to install and run the Raspberry Pi Imager.
Download the Agnospcb OS + Inspection tool clicking on the button:
Insert your SD card into the computer or laptop SD card slot.
Extract the .zip file into any folder.
In the Raspberry Pi Imager, select the Agnospcb OS image file  you have already downloaded (and extracted) and the SD card you would like to install it on. You need to select the USE CUSTOM image as indicated below.
Then simply click the WRITE button.
Wait for the Raspberry Pi Imager to finish writing.
Once you get the following message, you can eject your SD card and plug in into your AgnosPCB raspberry 400. You will need to populate the USER and PASSWORD fields again.